Infinite Ocean VR 1.6 requires Cinema 4D R19 or the CV VR Cam plugin from Cineversity
Watch the demo video below in Chrome or Firefox. Safari does not support 360º playback.
Infinite Ocean is compatible with Cinema 4D R 15 Broadcast or higher.
To use VR functionality, consider these options:
Paid Solutions:
Free Solutions:
The videos of older version below showcase Infinite Ocean features, although Infinite Ocean no longer contains the Real Sky Studio Sampler skies.
Note: Infinite Ocean no longer contains the promotional Real Sky Studio sky sampler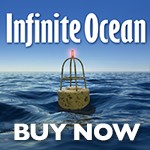 VR Ready with Cinema 4D R19 or CV VR Cam plugin
New, ultra-realistic sea foam and whitecap shader
New water geometry with more realistic crests and peaks
Control swell direction, size and speed
One seamless, photographic HD Real Sky Studio sky (8,000 pixels wide)
Model bouy for scale and position
Easy to use
Wakes for ships at bow and stern
Floating object controlers for multiple boats
Transparent water shader
Comes with high-poly, detailed 3D yacht model
What Infinite Ocean is
Infinite Ocean is an easy-to-use, add-on for Cinema 4D which allows anyone to quickly add a limitless Ocean or large body of water to a scene. With Infinite Ocean, you'll be productive right out of the box without waiting forever to see your renders or master the tool. IO 1.4 is a displacement-based tool which is very light on system resources providing a shallow learning curve yet produces powerful results with customizable sliders to control wave amplitude and sea foam quality and coverage.
What Infinite Ocean is not
Infinite Ocean is not a cumbersome, particle-based plugin which takes forever to learn, use and render. You cannot pour Infinite Ocean into a bottle and shake it around. Similarly, you cannot create a tubular wave which crashes on top of an animated surfer inside of the pipeline (at least, not yet).


Known Issues:
C4Dept products are not supported under render engines other than the native Cinema 4D physical and standard render engines.
Rebus render farm is known to cause issues. Other render farms may or may not have issues as we have not tried them all.