Infinite Fathoms is compatible with Cinema 4D, R 15 Broadcast or higher
Visit The Pixel Lab for the oil rig shown in this slide show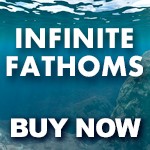 Infinite Fathoms
Infinite Fathoms is an infinite, underwater environment with realistic shaders for creating underwater scenes in Cinema 4D. Includes six different underwater preset landscapes, animated seaweed, schools of herring and infinite suspended particulates.
INFINITE FATHOMS is a virtual, underwater, 3D environment for Cinema 4D.
Infinite Fathoms contains six underwater preset landscapes plus two rigs for animating schools of fish, floating particulates and animated seaweed.
Infinite Fathoms — infinite water shader (no landscape)
Sea Cave — landscape with underwater cave
Open Deep landscape —
Open Shallows — landscape near the shore
Steep & Deep — landscape with dropoff
The Trench — Deep marine sea trench
Seaweed — animated seaweed
Infinite Floaties — suspended floating particulates
Note: Some models featured in the promotional video, including coral, tropical fish, shark, sunken treasure and shipwreck are not included in this product,, but will be offered separately